Below you see links to all of our original What Prince George Wore posts. (Who knew there would be another royal baby so soon, necessitating this site's creation?!) The links take you to that site, What Prince George Wore; just click the photo or the title of the specific post.
APR 16 2015  George's Classic Playdate Pieces 
DEC 13 2014   George's Christmas Photos Prince George Wears Cath Kidston, Polarn O. Pyret & Start-Rite in New Photos
NOV 25 2014  George Wears a Snappy Sweater in new Family Picture George sports a new PowellCraft sweater in this family picture
SEP 1 2014   It's Hippy Chick & Little White Company for George We ID a number of items in this post
JUL 22 2014   Prince George Turns One! A variety of newsbytes about George's first birthday
JUL 21, 2014  New Family Photos! George, Kate & William at the butterfly exhibit at the Natural History Museum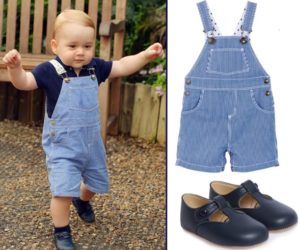 JUL 11 2014   Prince George CNN Special
JUN 15 2014  George is Stylish to watch his Father Play Polo We saw George in his cute red stripe overalls/shortall by Neck and Neck
MAY 4 2014   About That Sailboat Romper George Wore We reveal who really made George's smocked romper, Les Petites Abeilles
APR 30 2104  It's Neck and Neck for George as Tour Wraps Up  A look at what George wore as he left Australia for the long trip home
APR 22 2014  George's Excellent Adventure at the Zoo  The Prince meets a Bilby and has a grand time at the Sydney zoo.
APR 16 2014  Prince George is Elegant for Australian Arrival The Prince sported another nautically-themed look for his arrival in Australia