Offering tips on sales, availability, restocking and reissuing of items.
JUNE 1: Both of the Fina Ejerique sweaters Prince George has worn are still available at Cachet Kids. The Navy Blue Cardigan is $46 / £36 and the Soft & Warm Blue Jumper is  $41.09 / £31.99.  Our thanks to the eagle-eyed Brooke for the tip on these.
MAY 30: Prince George's Rachel Riley Smocked Two-Piece Set is on sale at Saks. There are several other Rachel Riley pieces on sale at Saks, including the Sailboat Smocked Dungaree.
SEP 22: Several of the Rachel Riley pieces Prince George has worn are on sale at Alex and Alexa.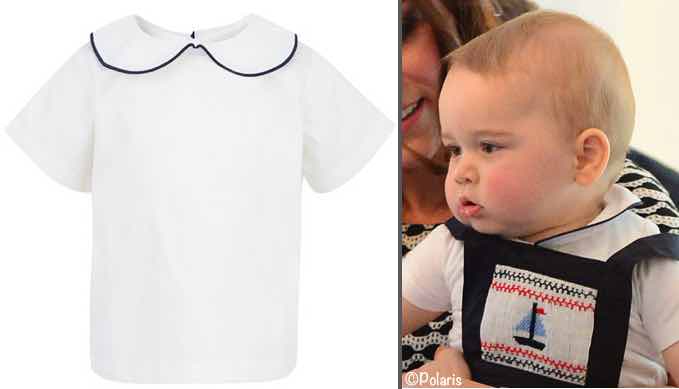 SEP 21: The Joules Milford jacket like George's (more info here and here) is in stock at Alex and Alexa ($50) and at the Joules UK site (£32.95), as well as on the US site ($62.95). The only difference with this year's version is the color of the logo, it is yellow instead of light blue.
SEP 20: Charlotte's Baby Wadded Snowsuit is back in stock & available in all sizes at John Lewis. The style is still priced at £28; the dusky pink and blue colors are also available.