This morning, we enjoyed a delightful surprise when Kensington Palace released the Cambridge family's official Christmas card photo.
The image was shot in Jordan during a family vacation earlier this year.  It is a country where the family lived in the mid-1980s when Michael Middleton was stationed there with British Airways.  The family looks relaxed in the image, sporting lightweight casual styles.
The children have certainly grown since last year. I think the changes are more pronounced because we haven't seen them throughout the year as much as we usually did pre-pandemic.  Below, a look at the three young royals in this year's card.
And in last year's photo, with one of my all-time favorite pictures of Prince Louis, who looked like he was having a rollicking good time when the photo was taken.
Now for our quick review of what the children are wearing in this year's photo, beginning with Prince George.
The eldest Cambridge child appeared to wear a polo shirt by The Gap, the brand's Kids Polo Shirt in green camo ($4.48 with promo code BIGFLASH).  The knit shirt is 100% cotton with a spread collar, front buttons, and a patch pocket at the chest.
Thank you to Found by Bojana; she found this piece the same time I did. I'm not able to ID the Prince's shorts, but he is wearing Nike sneakers, possibly his Revolution 5 style; it's impossible to be sure without additional photos.
Now for what Princess Charlotte wore.
With thanks to Bojanana for her ID, it looks like she was in a dress by Mango, a brand worn by her mother.  It is the label's 'Gabi' dress (£25.99, now sold out).  The dress is 100% cotton with a squared neckline, smocked bodice, tiered skirt, and ruffle at the shoulder. 
The product shots of the dress look darker than Princess Charlotte's blue color, but all of the design elements match, including the cut, the fabric repeat, tiered skirt, everything. The Princess also looked like she was wearing a pair of the oft-seen Hampton Canvas Plimsolls by Trotters ($38). 
Prince Louis also seemed to be wearing his Hampton Canvas sneakers, along with a polo shirt that may look familiar.
It very much appears to be the Rachel Riley striped polo shirt ($55, out of stock) worn by big brother George when the family visited the Taronga Zoo in Sydney, Australia.
The polo shirt is 95% cotton with 5% spandex, done in a narrow blue and white stripe.  I believe George had this in multiple sizes when he was younger, thus there being a size that would fit Louis at age 3.
Now for a look back at the family's previous cards, starting with last year's, taken by Matt Porteous at the family's Anmer Hall home.
In 2019 there was a black and white image released that was taken by the Duchess.   
A more formal photo was used on the family's 2019 card, shot at Anmer Hall by Matt Porteous. 
The 2017 photo was a formal posed image taken by Chris Jackson, Getty's royal photographer. 
For their 2016 Christmas cards, as well as thank you notes, the Duke and Duchess used a picture from a children's party held during their September 2016 Canada tour. 
The first time the family released an official photo for Christmas was in 2015. It featured an image by Chris Jelf taken at Kensington Palace.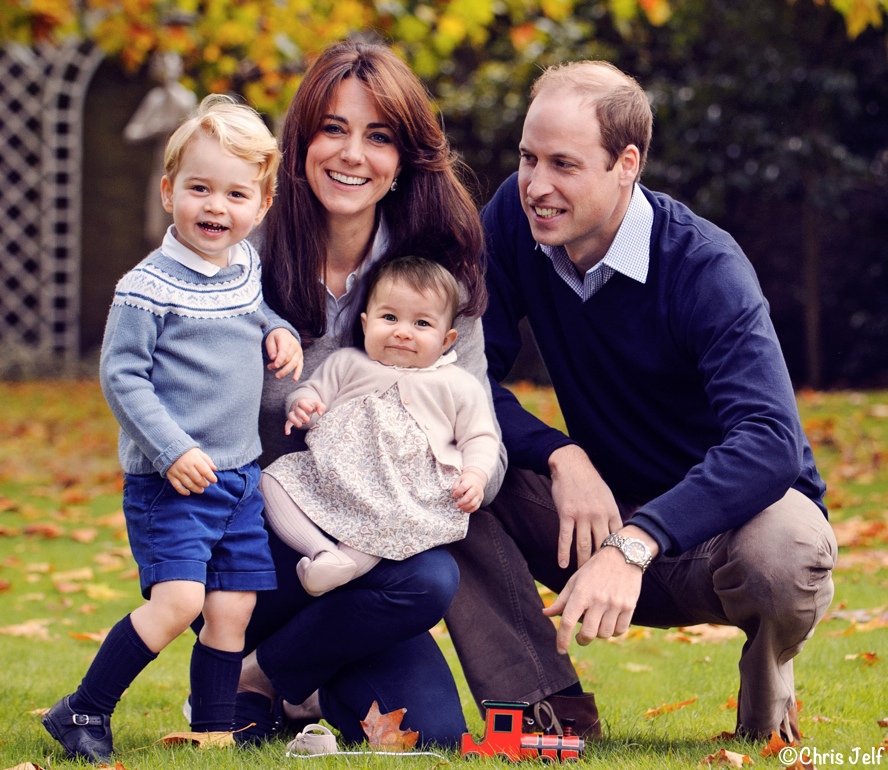 Ahead of the 2014 holidays, the family released several photos of Prince George on the steps of Kensington Palace. They were taken by Edward Lane Fox, Prince Harry's former private secretary.
Now a look back at how the children have grown, as seen through the family's Christmas card photos from the past five years.  We begin with Prince George.
Princess Charlotte.
And Prince Louis.
Hopefully, we'll see more of the children over the holidays, but those decisions are likely to be of the last-minute variety as the pandemic worsens in many locations.