We were treated to new photos of the Cambridge children today as they arrived and departed from Buckingham Palace where they attended the Queen's annual Christmas luncheon. Below, the Duchess and Princess Charlotte as the family headed home after the big do. 
And here you see all three looking rather serious, or just plain tired after the day's excitement.
Little Louis has really grown since we last saw him, and his hair looks like it has gotten darker. Here you see the Prince with his mother on their way to the party. 
Kate drove both Charlotte and Louis to lunch. In this photo, you can see the Princess in the back seat. 
Prince George arrived with his father. 
As far as the luncheon itself goes, The Daily Mail reports, "Children …and babies will enjoy a Christmas dinner in a separate room, run by nannies and palace staff. The youngsters even have their own entertainer."
In this picture of the family as they left BP, you can see Charlotte in the back seat and just a bit of Prince George's head behind Kate. Prince Louis is behind Prince William.  
A quick look back shows Prince George on his way to or from the annual event starting with his 2015 participation.  
And Princess Charlotte as she has looked over the years. 
Also today, a look at the Cambridge family's 2019 Christmas card. It was shared on Twitter by Air Commodore Dawn McCafferty, CBE, Commandant of the Air Cadets. The Duchess is Royal Patron of the Cadets. 
Here is a closer look at the photo, with the family centered around a vintage Rickman Metisse motorcycle and sidecar, according to The Daily Mail.  
Now for what little we have gleaned about the children's attire. For the Christmas lunch, Prince George was in a white shirt with piping at the collar and possibly down the front placket. It is similar to the Daniel shirt by Amaia Kids we have seen him wear on multiple occasions, including Prince Louis's christening in July 2018 (l), as well as Princess Eugenie's October 2018 wedding (c).  The shirt comes in both a long sleeve and short sleeve style. 
It could also be the Pique Piped Shirt ($72) at Rachel Riley.
In the Christmas card photo, the Prince *could* be wearing another H&M Polo ($4.99) from the brand's LOGG, or Label of Graded Goods, collection. His shorts are similar to the Faded Glory cargo shorts seen below, but I don't believe they are the same pair (Faded Glory is a line Walmart owned that they have discontinued), only similar to this design. Without a hi-res photo that will show the pattern and colors, it's almost impossible to determine the exact items George is wearing.   
For today's luncheon, it appears Princess Charlotte was in a dress by Little Alice London, the brand's Nutcracker design. (What a perfect name for this time of year, especially since Kate took Charlotte to see the ballet last year!)   
The dress is cotton and fully lined. Little Alice London is known for its traditional smocked designs, and Charlotte's dress features hand-smocking on the front bodice and also on the back, along with puffed sleeves, a velvet Peter Pan collar and matching velvet piping at the sleeve hems, a full skirt, sash, and mother of pearl buttons on the back. Here is a closer look at the collar and smocking. 
The design is also offered in a romper (£50, about $65 at today's exchange rates). 
Many thanks to The Daily Mail's Caroline Parr for her identification of this item.  Some readers may remember that the brand was founded by a college friend of Kate's, Alice Avenel, formerly Alice St. John Webster.  A photo of Ms. Avenel's daughter in the Nutcracker dress was featured on the brand's Instagram account. 
The Princess wore a Little Alice London dress when she went to meet her new baby brother in April of last year.  
I have not yet had time to look for the dress worn by the Princess in the Christmas card picture. It looks like it has a solid black or deep navy sleeveless top with a gingham checked skirt that is embellished with rows of ric-rac or similar trim.
Prince Louis appears to have been in a sweater by royal favorite Amaia Kids for the luncheon, the Parsnip Fairisle Jumper in green ($60/£50). Crafted in Spain of a cashmere and wool blend, it features the distinctive Fairisle pattern at the chest and back with a smaller design echoing that motif at the sleeve cuffs and the hem. The Parsnip comes in a variety of colors and styles for boys and girls.  
A Tip of the Tiara to our friend Bojana on Twitter for her very speedy ID of the sweater! It's likely the young Prince was wearing an Amaia Kids shirt with Peter Pan collar beneath the jumper, perhaps one previously worn by his big brother.
UPDATE Dec 21: Mika suggests in a comment that Louis may have worn a Milo bodysuit from Trotters for the Christmas lunch. That is a good possibility. 
Or he could be wearing George's Rachel Riley ivory/navy trim shirt seen during his Plunket playdate in 2014.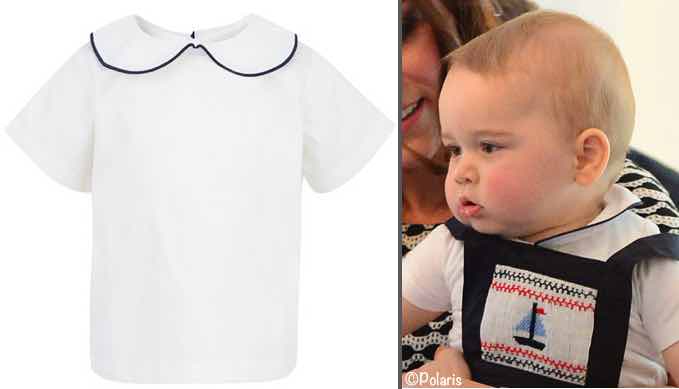 The prince has worn a similar Peter Pan collar with piped trim before. It is difficult to tell because the details are so tiny in the photos.  
In the photo seen on the Christmas card, Louis looks like he is in a light blue or possibly very thinly striped white/blue dungaree or shortall atop a little polo shirt in navy. I have not yet had time to look for this item either but will do so shortly.
We leave you with a heads-up about Christmas Day church services: there are multiple reports we will see both Prince George and Princess Charlotte taking part in the traditional walk to church services at Sandringham.  We'll cross our fingers (and our toes); this is the case!