Prince George, Princess Charlotte and Prince Louis looked like they had a terrific time today when enjoying a sneak peek at the Chelsea Flower Show.
They were exploring the 'Back to Nature Garden' at the show, a project the Duchess of Cambridge has been working on for months, described as "a woodland setting for families and communities to come together and connect with nature."
Today the family gave the garden a test run ahead of Tuesday's official show opening. More from The Evening Standard.
The space, which Kate hopes will inspire families "to get outside" and "enjoy nature", features a tree house, waterfall, rustic den and a campfire as well as tree stumps, stepping stones and a hollow log for children to play on.
I love this picture of Prince Louis on a swing in the garden. He looks ever-so-serious.
Many readers know that Kate advocates that children and families spend time outdoors because of the benefits that can have on childhood development. It turns out that as she worked on the project, she had help from all three children! George, Charlotte, and Louis have gathered moss, leaves and twigs to help decorate the garden. Below, a barefoot Charlotte takes a turn on the swing. 
Prince George, Princess Charlotte and Prince Louis looked like they had a terrific time while giving the garden a "test run" ahead of tomorrow's official preview and Tuesday's opening. Kate has done an interview about the garden; Kensington Palace tweeted a video showing the family at the garden today with some of the interview.
"I hope that this woodland that we have created here really inspires families, kids and communities to get outside, enjoy nature and the outdoors and spend quality time together." — The Duchess of Cambridge on the #RHSChelsea Back to Nature Garden pic.twitter.com/286B9TOPGA

— Kensington Palace (@KensingtonRoyal) May 20, 2019
Here you see George and his father working on a fire near the den that is part of the garden.
A closer look at the tepee-style structure compliments of The Daily Mail's Rebecca English, who was one of the royal reporters given a look at the exhibit today. The family collected hazel sticks to make the den.
Hello! reports "At the heart of the garden is a nine-tonne treehouse built on a huge chestnut trunk and clad in Staghorn Oak, Larch and Hazel branches." Below, the ladder leading up to the treehouse. 
In two more photos from Rebecca, you can see the waterfall and creek running through the garden.

A closer look at George and Charlotte with their feet in the water. 
The photographs were taken by Matt Porteous, who also shot Prince George's official third birthday photos (bottom left & center), his fifth birthday photo (bottom right) and last year's Christmas card picture.
Now for our look at what the children wore in today's photos. It looks like Prince Louis was in the Neck and Neck shortall his big brother wore when returning home from the Australia/New Zealand tour in 2014, and again to watch his father play polo in June 2014.
It is possible Louis is also wearing George's Rachel Riley ivory/navy trim shirt seen during his Plunket playdate in 2014.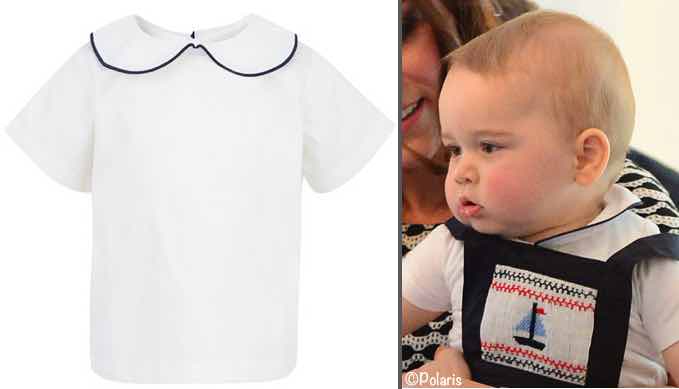 We have not yet IDed the cardigan sweater Prince Louis was wearing or his shoes. There is some thought the cardigan Louis wore is the same worn by Charlotte at the children's party in Canada. Below you can see they are done in different stitches, the front placket and buttons are different and the 'pocket' detail that you see on the Louis sweater isn't present on Charlotte's. (I initially thought/hoped it was the same sweater; it can be difficult to see the differences in pieces.)
Princess Charlotte was in a Rachel Riley dress for today's outing, the Ditsy Floral Button-Front style (£65, about $83 at today's exchange rates).  The cotton dress has puff sleeves, a Peter Pan collar trimmed in ric-rac, full skirt, and buttons down the front. I think the Princess also wore her Trotters Hampton Classic Sneakers. Thank you to Yasmin for her comment mentioning this!
Prince George is also wearing a piece we have seen before, the same H&M design worn to the Houghton Horse Trials in 2016, but obviously in a bigger size. 
UPDATE MAY 20: The shorts and belt George is wearing look like the Zara Belted Chino Short ($25.90), with thanks to Georgie's Mum for sharing that info in a comment!
What a treat to see the Cambridge children enjoying themselves in the garden their mother worked so hard on!
+++++++++++++++++++++++++++++++++++++++++
Also today, we are excited to be welcoming a new sponsor to the site, Melijoe. Described as the "ultimate kids fashion destination," the company offers a terrific selection of brands for ages 0-16, all of them handpicked in Paris.  Melijoe was launched by Nathalie Genty in 2007 when she was looking for pieces her son could wear, and she has continued to select only the finest brands to carry at Melijoe.
We begin with a brand worn by Prince George, Sunuva. In the third birthday photo that is shown above Prince George is wearing a striped Sunuva tee. The British company specializes in beachwear made of fabrics that block more than 97% of UV rays. We'll look at some of the fun designs for girls first, starting with the Sun Protection T-Shirt in a neon print with flounces at the shoulder, followed by a Sun Protection Swimsuit in orange and yellow, a UV Protection Beach T-Shirt in neon coral, and a Voile Sundress in lightweight voile (a very soft material) that is also lined in voile, for sizes 2Y – 12Y.
There are some darling Sunuva pieces for the young man in your family; we selected several with a nifty nautical motif. On the left, the boys Cotton Terry Playsuit for ages 6M – 24M; the UV Sun Protection Float Swimsuit comes in sizes 2Y – 4Y; the blue UV Protection Beach T-Shirt has snaps on the back and is offered in sizes 3M – 24M.
Next, some of the Sunuva styles in girls sizes ranging from 2 Years to 12 Years. On the left, a pretty Sun Protection Swimsuit in an aqua green tropical print; in the center, the UV Protection Beach T-Shirt in a sporty blue stripe; on the right, the Printed Sun Protection Swimsuit in a vibrant blue and neon yellow pattern.
Now to another brand worn by Prince George, Petit Bateau. The young Prince was in a Petit Bateau short-all (also called an overall) for his official first birthday photos taken at a butterfly exhibit at the Natural History Museum.
It's a classic piece perfect for so many situations. And the good news is that the Stripe Print Overall is offered in an almost identical design. Made of 100% cotton and lined in 100% cotton, the piece has multiple pockets, clip straps on the chest and snaps at the inside leg. It is available at Melijoe in sizes 3M – 18M. There are several other overall/shortall styles offered, including a soft Seersucker Overall in greyish-blue that is available in sizes 3M – 24M.
There are other summer styles from Petit Bateau that we really like, including a trio of comfy, casual dresses for young ladies. From left to right you see the Heart Printed Dress in 100% cotton knit jersey for sizes 3Y – 12Y; in the center, a Printed Poplin Dress in 100% cotton for sizes 3Y – 12Y; on the right, a Short Sleeve Knit Dress in 100% cotton jersey.
Here are three more summery styles from Petit Bateau. On the left, the Printed Bermudas in 100% cotton for sizes 4Y – 12Y; center, the UV Protection Beach T-Shirt for sizes 3Y – 12Y; right, the Boys Striped Swim Shorts for boys ages 3M – 36M.
The final brand we'll look at today is another we have seen Prince George wear, Mayoral. Below, HRH in his Mayoral shorts at a 2015 polo match. 
The company started with a small family factory in Spain and has grown tremendously. The brand's philosophy is "make new friends," and it is committed to creating comfortable, playful pieces while also adhering to responsible ethical standards. The fashions are adorable, especially some of the multi-piece outfits and sets for the little ones. The 4-Piece Outfit Set in white and blue has two tops decorated with embroidered motifs and two pair of leggings that have elastic waistbands; the set is offered for sizes 1M – 12M.
Here is another cute combination, a 3-piece Cardigan, T-Shirt & Leggings Outfit that features a bolero-style cardigan, gingham leggings, and a tee with one very chic young lady on the front.
There are some darling dresses perfect for any number of occasions in a fresh, crisp navy and white palette. Starting on the left, we show the Dotted Dress made of 100% cotton and lined in 100% cotton, available for sizes 6M – 36M; in the center, the Striped Dress in cotton poplin for sizes 6M – 36M; on the right, the Dotted Dress with Bow, done in cool and comfortable cotton percale for sizes 3Y – 9Y.
Mayoral has some classic styles for young men. Here is a small sampling: on the left, the Orange Red Bermudas 8Y – 16Y; center, a Graphic Polo in cotton piqué with a sailboat motif for sizes 3Y – 9Y; on the right, the Slim Fit Chinos in cotton twill for sizes 3Y – 9Y.
There is a lot to like at Melijoe; I hope you have fun exploring the site!
We'll leave you with a few more photo montages from today, including George and Louis in a similar stance at roughly the same age. 
And a closer look at all three children.