Happy Birthday, Prince Louis of Cambridge!
In honor of his first birthday, Kensington Palace released three new photos of the Prince. 
The new pictures were taken by his mother, the Duchess of Cambridge, at the family's Norfolk home. Look at those tiny teeth!  More about the images via The Telegraph's story:
A new set of official portraits of the baby Prince, released in celebration of his first birthday on Tuesday, show him happily playing in the woods, having rolled around so much he is covered in moss and leaves.

The pictures are a rare glimpse of the Louis, who bears a striking resemblance to his older siblings and mother at the same age and has only been seen in public a handful of times since his birth.
It is amazing how much he has changed since we last saw a picture of the Prince in December. 
When you look at that image side-by-side with today's pictures the difference from 5 months ago really pops out at you.
This is how the Prince's big sister and brother were celebrated on their first birthdays. For Prince George's photos, the Duke and Duchess took him to a butterfly exhibit at the Natural History Museum. For Princess Charlotte's first birthday, the family released four photos taken by the Duchess.   
A second picture from Prince George's first birthday.
And two more from Charlotte's first birthday set. 
And here is a look at all three Cambridge children in the pictures released for their first birthdays.
It was a year ago tomorrow that we first met Louis, but not until after Princess Charlotte and Prince George were introduced to their new brother.
Then the Prince left the Lindo Wing with his parents. 
A few days later we learned his name. 
In July we saw Prince Louis at his christening. 
The formal photos were lovely.
But this unposed shot was really a treat.
The next photos showing Louis were part of a set taken to mark Prince Charles's 70th birthday.
And then we saw Louis in the Christmas card picture seen above.
Which brings us to the new photos released today and what Prince Louis was wearing. We'll start with his Little Puppy Jumper ($47, on sale!) from Trotters in the 'blue denim' colorway. 
The sweater is made of a cashmere/wool/viscose/poly blend that can be machine washed. It features the Trotters puppy in an intarsia design, buttons at the back neck, and ribbing at the collar, cuffs, and hem. Trotters is a classic British heritage brand worn by Prince George several times. 
Thank you to Polux1030 and UFO No More for their assistance with this ID.
Beneath the sweater, the Prince has on a top that appears to be a woven piece, not a knit. The fabric features a subtle tone on tone crosshatch pattern and the collar is reminiscent of the Amaia Kids 'Chickadee' we have seen Prince George wear. The shirt lower left is the one I am thinking is similar.
In two other photos, Louis wears a completely different outfit with a maroon sweater, white top, and navy corduroy trousers (full-length). 
With thanks to Rebecca for her comment on this post, Prince Louis is wearing the "Frog Jumper" by Elfie London.  
The company shared its delight at seeing the Prince in one of its designs on social media. 
You can see where the name of the sweater comes from, originally there was a frog included in one of the front pockets. Because it is from one of the company's first collections more than seven years ago it is possible that it originally belonged to Prince George.  
Elfie London is an independent British brand that describes itself as offering "Vintage style British children's clothes, reminiscent of a fairytale world."
The company was launched by longtime friends Victoria Roper Curzon and Rebecca Guinness. You can see from looking at the merchandise why Kate would find the designs appealing. More from the retailer:
We want to encourage children to explore outside, build dens and get creative – which naturally entails mud, dirt and scuffles.

As a homegrown British children's brand, being original, charming and affordable are all high on our company's agenda.
The top Louis wore has a Peter Pan collar with piping in royal blue, or dark blue or perhaps even navy (I'm having a tough time discerning the color). The garment looks like it *could* be the Trotters Milo Bodysuit worn by Prince George for his 2014 Plunket Playdate in New Zealand.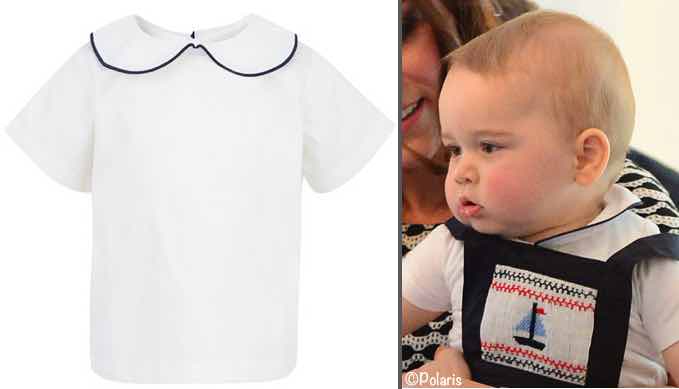 If it is a new piece, it could be one of the following (left to right): on the left, Rachel Riley's Peter Pan Collar Shirt; in the center, a Trotters Milo style; on the right, a Mayfair Bodysuit by Amaia Kids. To me, the center portion of the Amaia collar is too small, too narrow an opening between the two sides of the collar.  The Rachel Riley almost seems too wide, but it's difficult to tell from the two photos released today.
I will get an email to Amaia and see if they can confirm any of our possible IDs. UPDATE April 23: Amaia is unable to say if either piece is their design.
There have been a number of comments suggesting the Prince is wearing shorts or bloomers and knee socks. Here is a digitally treated image showing the length. There was an early media report indicating Louis was wearing the same bloomers Prince George wore and that was picked up by other publications, probably creating some confusion.  
The new pictures made many a front page on the far side of the pond. Below, The Daily Mail.
The Daily Mirror. 
And The Daily Telegraph.
In some photos, he looks like Michael Middleton to me, as well as Kate. Then in another, he looks like Charlotte. Who do you think he resembles at this point?
Be sure to pop over and visit What Kate Wore where we have shared a few photos not included in this post!